EDITOR'S NOTE: This is a developing story with multiple day/time stamps.
More Questions for Original Prosecutors (Update July 9, 2019, 12:12 am)
As earlier reported, billionaire Jeffrey Epstein was arrested in New York July 6th after arriving from Paris France on his private jet. He was charged with new sex-trafficking charges involving allegations that date to the early 2000s, according to law enforcement officials. Prosecutors held a press conference on the new charges ahead of Epstein's first court appearance this past Monday. They urged the public to come forward if anyone had been abused by Epstein.
A federal indictment unsealed Monday charges that Epstein "sexually exploited and abused dozens of minor girls," some as young as 14, at his multiple homes in Manhattan and Palm Beach, Florida, and other locations. The indictment describes the victims as "particularly vulnerable to exploitation."
Epstein, who pleaded not guilty Monday, could get up to 45 years in prison if convicted. Epstein's defense attorneys contend he never used violence or coerced any of the girls, and that his actions amount, at most, to soliciting prostitution. They say the charges should be dismissed in light of Epstein's earlier plea deal.
Lewd Discoveries
A trove of lewd photographs of girls, discovered in a safe inside the financier Jeffrey Epstein's Manhattan mansion the same day he was arrested, is deepening questions about why federal prosecutors in Miami had cut a deal that shielded him from federal prosecution in 2008. This man will burn in hell. He reminds me of the man in the movie, "The Girl With The Dragon Tattoo."There are many more women out there in my opinion and more probably unable to speak. My gut tells me he has murdered some of them too.
"As far as I've been able to find from my investigation, vulnerable children and girls are all he targets. The more vulnerable and the younger the better," said private investigator Mike Fisten. Fisten has been working for more than a decade with attorney Brad Edwards, who represents 14 of Epstein's accusers.
"The only way his scheme works is to recruit the most vulnerable girls. First of all that age group he targets, 13-17, is particularly vulnerable and he knows that … and then the most susceptible of falling into his trap are the ones who don't have a parent in the household or a good support system and who need money," said Edwards. "Two to three to four hundred dollars to any 13-year-old in America is a lot of money, and you dangle it to those who've never seen that much money in one place at one time, and he realized you can get someone to do almost anything. … Now he's created a very solid spider web of girls whose vulnerabilities he can prey on."
One Step Away From Homelessness
In a November investigation led by Miami Herald reporter Julie Brown, about 80 victims were identified as having been abused by Epstein from 2001 to 2006. The Herald spoke with eight of the accusers. It found: Most of the girls came from disadvantaged families, single-parent homes or foster care. Some had experienced troubles that belied their ages: They had parents and friends who committed suicide; mothers abused by husbands and boyfriends; fathers who molested and beat them.
One girl had watched her stepfather strangle her 8-year-old stepbrother, according to court records obtained by the Herald. Many of the girls were one step away from homelessness. The initial Florida investigation began when the parent of one of the victims, a 14-year-old girl, reported Epstein in 2005 to the local police who then brought in the FBI. The state charged Epstein in July 2006. Kuvin, the attorney representing the 14-year-old, says his clients worked with the FBI but he never got the sense that prosecutors were looking to bring a case.
"We told them we were happy to talk to them. My clients were willing to talk to them. Nobody sought out to speak to them, nobody wanted to talk to them. They negotiated the (non prosecution) deal without ever talking to us," said Kuvin, the attorney who represented the girl and two other victims. Pretty sure he had people use scare tactics against the girls and their parents to keep them quite. How horrible that must have been.
Smackdown of the Sweetheart Deal
Federal prosecutors in Manhattan charged Mr. Epstein on Monday with sex trafficking, dealing an implicit rebuke to that plea agreement, sweetheart deal which was overseen by Alexander Acosta, then the United States attorney in Miami and now President Trump's labor secretary. Trump on Tuesday came to Acosta's defense saying that "a lot" of people were involved in the 2007 case in addition to Acosta. "I do hear that there were a lot of people involved in that decision. Not just him." He added, "But you're talking about a long time ago and again it was a decision made, I think, not by him but by a lot of people. So we're going to look at it very carefully," he said. Well that doesn't sound like a ringing endorsement.
MSM Desperate to Tie Trump To Epstein
Of course the mainstream media is trying to paint a smear campaign against our President Trump trying to confuse the public spreading lies that Trump was friends with Epstein. Let me make it clear. Of course Trump knew Epstein. He was "friends" with him until he learned of his real character. The President stated that "he cut ties with Epstein years ago, about 15 years ago."
He said that Epstein was a fixture in Palm Beach. Of course he knew him at one point. Trump himself is a billionaire. Why wouldn't he know him at some point? Yet, he cut ties with him fifteen years ago and didn't elaborate in his statement. It was earlier reported that a manager who ran his Mar-a-lago spa, reported to Trump that Epstein was inappropriate and harassed the young girls, making inappropriate offers to them.
Once Trump learned that news he banned Epstein for life from the club and cut ties. This must be the incident the President was referring to in his most recent statement on the matter. The President was also the only one who back in 2008 helped the prosecution with the case against Epstein. So people get it straight.
Clinton and the Lolita Express
Clinton is the friend of Epstein, not Trump. Clinton flew 26 times on the Lolita Express ( Epstein's private jet) to the pedophile island Little St. James and dodged his secret service at least 5 of those times per the jets manifest. Trump never was seen on the island or on the jet manifest. Did you know that lolita means a sexually precocious young girl? It makes my skin crawl how perverted these old slimy men are. This man better not get off.
Acosta also broke his silence since the charges were announced and said Tuesday that he was "pleased" the New York prosecutors brought the case "based on new evidence." The Daily Beast is reporting per Fox News Laura Ingram moments ago that Acosta was asked back when Trump was nominating him as Labor Secretary about the Epstein case where he gave him a sweetheart deal. He replied that he was told by a higher up "to back off." Someone above him. I don't doubt it as these abominable acts run deep.
Flight Risk
Federal prosecutors acknowledged Monday that the current charges overlap with the Florida case from more than a decade ago. But they said one count in the indictment is based entirely on New York victims.
Epstein spent most of his time in recent years in the Virgin Islands and regularly flew off to foreign destinations, making more than 20 trips in and out of the U.S. on his private jet in the last 18 months, according to prosecutors. He has six homes, including one in Paris, and two private planes. He is a flight risk.
This better be the #meetoo movement for the voiceless children. Epstein and his seedy associates must be held accountable. Not politics before all else this time. This must be the moment this evil is stopped and dominoes fall. Lock them all up! As it currently stands, Epstein was denied bail (thank God) and he will be held until the next detention hearing which is on July 15th. Epstein is charged with one count of sex trafficking of minors and one count of conspiracy to engage in sex trafficking of minors.
Epic: 2nd Epstein Arrest! Who's Next? (Original Report, July 7, 2019, 7:00 am)
Palm Beach Billionaire pedophile and Clinton bestie Jeffrey Epstein, 66, was arrested on Saturday and will appear in New York court on Monday. He will be charged with sex trafficking dozens of minors in New York and Florida between 2002 and 2005, according to multiple law enforcement sources. Taking down pedophiles is a part of the MAGA movement, and we want more.
Trump has never been on the flight log to Loita Island, not even once.
The arrest by the FBI-NYPD Crimes Against Children Task Force comes about 12 years after the financier essentially got a slap on the wrist for allegedly molesting dozens of underage girls in Florida. But what took so long for the arrrest, and why now? Epstein's bust comes mere months after a federal judge ruled his 2007 non-prosecution agreement—secretly inked under former U.S. Attorney and current Labor Secretary Alexander Acosta—violated federal law by keeping Epstein's victims in the dark.
Karma's a B*tch
Under the sweetheart deal, Epstein dodged federal charges that might have sent him to prison for life. He instead pleaded guilty to minor state charges in Palm Beach, and served 13 months in a private wing of a county jail, mostly on work release. What people don't understand about karma is that it is interconnected in the universe. When we hurt someone they don't even have to feel it, but the universe always will. You can't hide from the energy nor destroy it. How you make others feel comes back to you 10 fold, whether it is good or bad.
Epstein was part of the original group that conceived the Clinton Global Initiative, which is described as a project "bringing together a community of global leaders to devise and implement innovative solutions to some of the world's biggest challenges." Focuses of this initiative include poverty, climate change, global wealth, and religious and ethics conflicts. In other words, a broad lie in order to cover their tracks. It sounds like many were involved, more than we could bear to know, but hopefully we will soon find out.
The Epstein Cult Looks Like NXIVM
Epstein was accused of assembling a large, cult-like network of underage girls — with the help of young female recruiters — to coerce into having sex acts behind the walls of his opulent waterfront mansion. These illegal sex parties happened as often as three times a day, the Town of Palm Beach police found. Epstein is a real sex addicit who needs major help in the form of chemical castration. Just ask State Rep. Steve Hurst, D-Munford Hurst and the Alabama House of Representatives.
Rather than meet at the prosecutor's Miami headquarters, during a breakfast meeting at the Marriott in West Palm Beach, Jay Lefkowitz, Epstein's attorney, struck a deal with the U.S. Attorney and current Labor Secretary Alexander Acosta. They made an extraordinary plea agreement that would conceal the full extent of Epstein's crimes and the number of people involved. This was a deal later ruled to have violated federal law by keeping Epstein's victims in the dark.
Not only would Epstein serve just 13 months in the county jail, but the deal — called a non-prosecution agreement — essentially shut down an ongoing FBI probe into whether there were more victims and other powerful people who took part in Epstein's sex crimes, according to a Miami Herald examination of thousands of emails, court documents and FBI records. The pact required Epstein to plead guilty to two prostitution charges in state court. Epstein and four of his accomplices named in the agreement received immunity from all federal criminal charges.
Massive Cover-up for Slick Willy?
But even more unusual, the deal included wording that granted immunity to "any potential co-conspirators'' who were also involved in Epstein's crimes. These accomplices or participants were not identified in the agreement, leaving it open to interpretation whether it possibly referred to other influential people who were having sex with underage girls at Epstein's various homes or on his plane. Perhaps that may be referring to President Bill Clinton.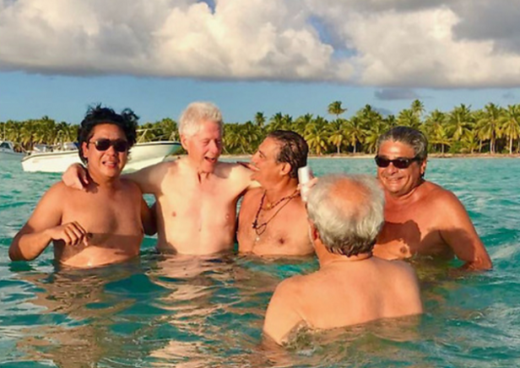 Former President Bill Clinton was a much more frequent flyer on a registered sex offender's infamous jet than previously reported, with flight logs showing the former president taking at least 26 trips aboard the "Lolita Express" — even apparently ditching his Secret Service detail for at least five of the flights, according to records obtained by FoxNews.com. Clinton's presence aboard Jeffrey Epstein's Boeing 727 on 11 occasions has been reported, but flight logs show the number is more than double that, and trips between 2001 and 2003 included extended junkets around the world with Epstein and fellow passengers identified on manifests by their initials or first names, including "Tatiana."
The tricked-out jet earned its Nabakov-inspired nickname because it was reportedly outfitted with a bed where passengers had group sex with young girls. What sick old men. But in June, prosecutors for the government advised the judge to uphold the plea deal, saying that avoiding it would "cause unintended harm to many of" the victims and jeopardize monetary settlements that more than a dozen of them received. This sounds like the prosecutors were paid off or getting s kick back for not moving forward with justice. This is why they pushed to appeal in the Second Circuit Court of Appeals.
"If today's report is true, it only proves that Epstein should have been charged by federal prosecutors 12 years ago in Florida. With his money, Epstein was able to buy more than a decade of delay in facing justice—but fortunately he wasn't able to postpone justice forever," said attorney Paul Cassell, who represents multiple victims of Epstein in their lawsuit against the federal government.
The Fight Lives On
The alleged victims, who sued the government for violating the Crime Victims' Rights Act, asked the court to rescind Epstein's non-prosecution agreement. There was also a motion from three outside parties to unseal documents. They were calling for the feds to hold him criminally liable. Good for them for being persistent and never giving up. This is their lives and not something to take lightly. The Court record states their involvement and the timeline as a matter of fact.
The NPA also granted immunity to Epstein's co-conspirators, identified in the document as "including but not limited to Sarah Kellen, Adriana Ross, Lesley Groff, or Nadia Marcinkova." But why not unseal the court documents? As it turns out, Mike Cernovich, a MAGA social media blogger, and Attorney Alan Dershowitz had a major win yesterday.
They persisted in pushing the case to the Second Circuit Court of Appeals which began pulling the dominos out from under these evil predators. Dershowitz wanted to unseal three documents that he believes would disprove accusations against him. Cernovich, a self proclaimed popular political journalist and activist, sought to intervene on behalf of the voiceless.
Cernovich and Dershowitz persuaded the Second Circuit Court of Appeals to rule that his lawsuit to unseal documents involving Jeffery Epstein's sex trafficking case should prevail. This is a huge victory in disassembling this child trafficking empire. Get ready folks, because this is the real Big One, an earthquake we have been anticipating. Read the order below.
Motion to Intervene
"Intervenors‐Appellants Alan Dershowitz, Michael Cernovich, and the Miami Herald Company (with reporter Julie Brown) appeal from certain orders of the United States District Court for the Southern District of New York (Robert W. Sweet, Judge) denying their respective motions to unseal filings in a defamation suit. We conclude that the District Court failed to conduct the requisite particularized review when ordering the sealing of the materials at issue."
"At the same time, we recognize the potential damage to privacy and reputation that may accompany public disclosure of hard‐fought, sensitive litigation. We therefore clarify the legal tools that district courts should use in safeguarding the integrity of their dockets. Accordingly, we VACATE the District Court's orders entered on November 2, 2016, May 3, 2017, and August 27, 2018, ORDER the unsealing of the summary judgment record as described further herein, and REMAND the cause to the District Court for particularized review of the remaining sealed materials."
Debunking the Friends Claim
For those in the fake news media trying to tie President Trump to Epstein now that he'e finally been arrested for child sex trafficketing, know this. Trump has never been on the flight log to Loita Island, not even once. That is Bill Clinton, don't get it twisted. Trump had Epstein kicked out of Mar-lar-go for life when he found out that Epstein assulted the 14 year old daughter of an employee of his, as told to Sean Hannity back in 2016 in an interview. Look at Trumps body language as he turns to Hannity when he says Epsteins name. He means business.
Trump knew Epstein was up to no good because Trump has always been very popular and in the know, as a VIP with fame. Yet, he kept an arms length. Maybe this was the real reason he wanted to Make America Great Again. This was the real sewer types he wants inprisioned. His intentions have always been to drain the swamp. He knew there were people that have done heinous atrocities towards young children and he has decided to be their voice. God Bless President Trump and the First Family.
Time to shine a spotlight on these cockroaches. Now who's next? Thank you Cernovich and Dershowitz for your brave work and persistence. You both are a heros. Stay strong, as the vile sludge will be spewing out now in full force.
Latest posts by Bryna Makowka
(see all)