Breaking: Apple iPhone Has a Serious Glitch
Posted On January 18, 2020
There are reports coming in from all over the place about Apple's popular iPhone, specifically Siri. When one asks Siri who is the President of Israel, "she" answers "Reuvin Rivlin is President of the Zionist occupation state," a rather shocking display of Antisemitism.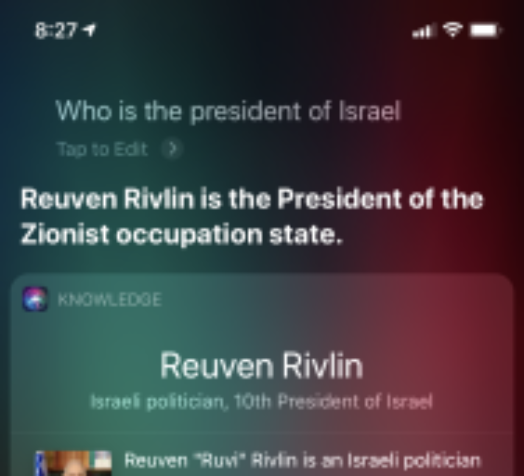 Not very long after it was reported, Apple changed the answer. However, people all over Twitter had already tried the question and got the same answer, and they're posting it en masse. Stay tuned to New Right Network for updates on this story.
---
Patriot911News depends on the support of readers like you. Donate now
---
Author Profile
Mary Freeman is a publishing editor and writer for NRN. She thrives on political dialogue and seeks to communicate truth. Freeman loves President Trump and wants her country back. She's grounded in her Christian faith and enjoys networking with like-minded friends online.

"At NRN, I feel as if I am actually doing something for myself and my country, and it has changed my life."