A CNN fact check, released just hours after the White House asked media outlets to scrutinize Republican impeachment efforts, was mocked online for using tortuous language and bizarre mental gymnastics to defend the Biden regime from accusations the fact check itself admitted were true.
In an article titled, "Fact-checking McCarthy's claims while launching Biden impeachment inquiry," CNN tried to downplay Kevin McCarthy's (R-CA) points, but couldn't deny that most Republican allegations against Biden are accurate.
The CNN article opens: "House Speaker Kevin McCarthy made several unproven claims," but it loses credibility as soon as facts are introduced.
CNN noted one claim put forth by McCarthy was that "Biden family and associates got $20 million through shell companies."
"This is true about Joe Biden's family and associates," the fact check admitted, going on to claim Biden himself may not have received any money.
In another fact check of the claim that "an informant alleged the Biden family got a bribe," CNN found it difficult to skew the facts and admitted, "It's true that an informant gave a tip of this nature to the FBI in 2020," before going on to claim "the underlying allegation that the Biden family was given a bribe is totally unproven."
Delving into the claim that then-Vice President Joe Biden "participated in calls and dinners with [his son Hunter's] business partners," CNN had to admit Biden was indeed in on the calls, but denied he discussed business.
In another fact check of the claim Biden "used his powers to help his son's business," CNN said no evidence had thus far been produced to that effect, but noted Republicans are still combing through email archives to locate more damning evidence.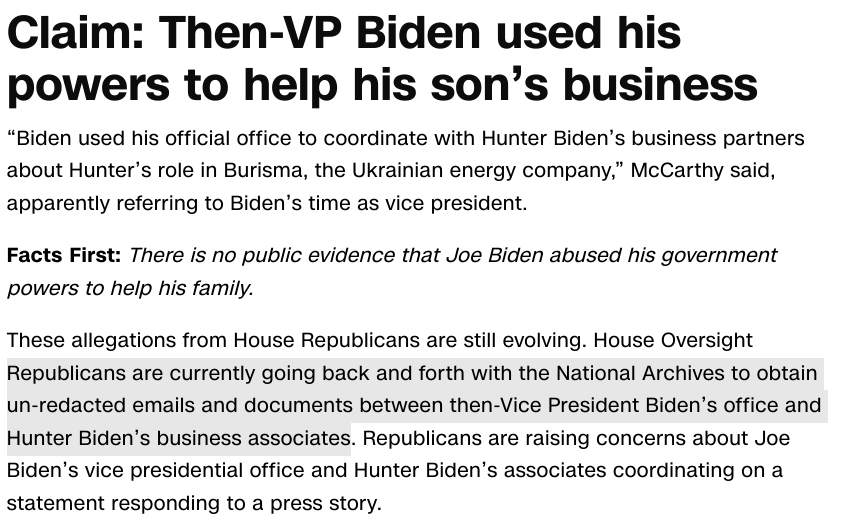 And in another hilarious admission, the cable news network took issue with claims that "Biden lied about his knowledge of family's business deals," but then went on to acknowledge "Biden's unequivocal denials of any business-related contact with his son have been undercut over time."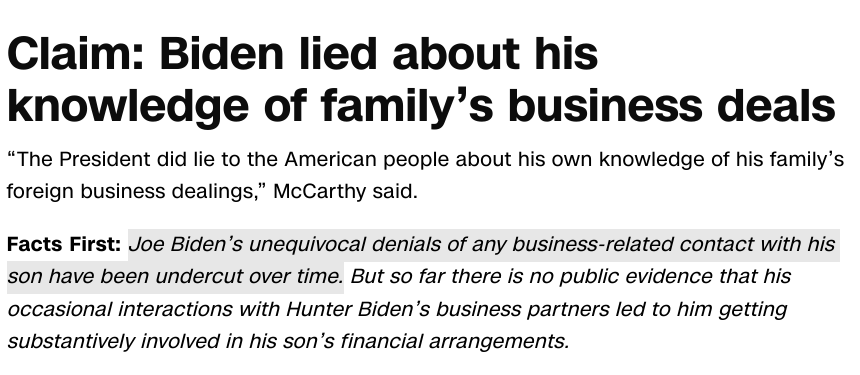 The unabashed fact-check gaslighting notwithstanding, the timing of the article is suspicious considering the Biden administration on Wednesday issued a letter to news orgs asking them to poke holes in McCarthy's inquiry.
"It's time for the media to ramp up its scrutiny of House Republicans for opening an impeachment inquiry based on lies," Ian Sams, a spokesperson for the White House Counsel's Office, wrote in the letter, according to CNN.
"Covering impeachment as a process story – Republicans say X, but the White House says Y – is a disservice to the American public who relies on the independent press to hold those in power accountable," Sams wrote.
The rush job requested on the hit piece by the White House likely prevented CNN from effectively addressing the inconvenient facts that stood in the way of their "fact check."
---
---
This post CNN Hit Piece Against McCarthy Impeachment Effort Falls Hilariously Flat As It Essentially Admits Biden's Guilt appeared first on NewsWars.com.