With the completion of China's 20th Communist Party Congress, which included President Xi Jinping's renewed vow to reunify the country with Taiwan, the future of a peaceful Asia is at greater risk.
That danger is made all the more real by an increased Chinese military presence surrounding Taiwan and Japan's southwestern islands.
Earlier this year, when examining China's possible timeline for invading Taiwan, experts from The Heritage Foundation analyzed key components of China's economy, demographics, and military. (The Daily Signal is the news outlet of The Heritage Foundation.)
In the final assessment, results reinforced the estimation of the former commander of the U.S. Indo-Pacific Command, the now-retired Adm. Phil Davidson, that the year 2027 will provide China a strategic window of opportunity against Taiwan. Now, Davidson is cautioning that the window may be opening even sooner, a contention that Secretary of State Antony Blinken seems to share.
Blinken explained that China seems to be diverging from the "status quo" and signaling a desire to more quickly pursue reunification with Taiwan.
But as the old saying goes, actions speak louder than words.
China's People's Liberation Army activities surrounding Taiwan have ramped up in recent months, and it seems to be staying that way. This year, from July to August, there was a 766% increase in the monthly average of PLA aircraft flying around Taiwan's airspace. At the beginning of August, the PLA sent out a total of 186 planes around Taiwan– the highest four-day average of the year.
During those four days, 76 planes flew within 25 miles of Taiwan's territorial waters, beyond a median line meant to safely separate China's PLA from Taiwan's military. Prior to September 2020, China had only crossed that median line four times.
The increased activity around Taiwan in August followed House Speaker Nancy Pelosi's visit to Taipei. Claiming that the U.S. "blatantly violated China's sovereignty and territorial integrity," Beijing also launched missiles, which landed in Japan's economic exclusion-zone waters after passing over the Taiwan Strait.
Since Pelosi's visit, monthly average detections of PLA aircraft activity have remained higher than any of the previous months of 2022.
There's precedent for this type of intimidation. In 1995 and 1996, after Lee Teng-hui, then Taiwan's president, was granted a visa and gave a speech at Cornell University's commencement, China resorted to similar tactics.
That resulted in the so-called "Third Taiwan Strait Crisis." Tensions grew, and China "conducted ballistic missile tests" landing a short distance from Taiwan's major ports. But today's China has a far more modern military backed with an extensive arsenal of long-range rocket forces.
The PLA navy has been active, too. On Aug. 6, Taiwan's Ministry of Defense began publicly recording incursions of Chinese naval vessels into the waters surrounding Taiwan, of which there have since been more than 400 instances.
As maritime weather conditions seasonally worsen in the winter months, China's naval activity will likely slacken, but not to pre-crisis levels. Based on the daily average number of vessels detected from August to October and historical experience, a new normal is likely slightly less than five recorded per day.
What Taiwan is experiencing now, Japan has confronted before, and that experience should inform an evolving "new normal" of increased PLA presence more broadly in the region. Japan says Chinese military activity has skyrocketed since 2009, but most notably after a 2010 maritime incident that resulted in a Chinese rare-earth mineral embargo on Japan.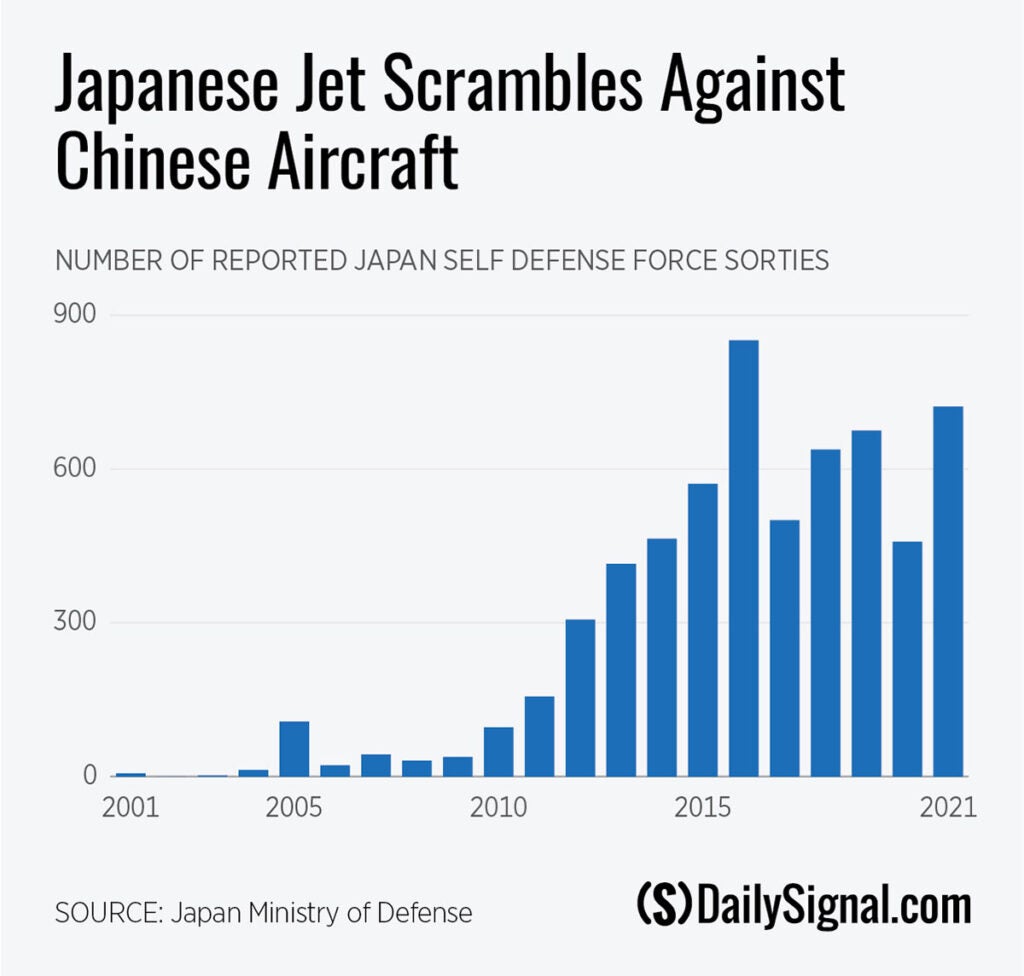 That crisis was triggered near the Senkaku islands. Chinese naval activity around Japan's Nansei island chain—or Ryukyu islands—also near Taiwan, remains high to this day.
For years, the waters to the northeast of Taiwan have seen China's navy and coast guard probe and test Japan's Self-Defense Forces. China's objective there has focused on contesting Japan's administration of the Senkaku islands. The islands have seen a growth in the presence of Japanese coast guard and Self-Defense Forces in response.
The same added stress and need for forces should be expected around Taiwan going forward.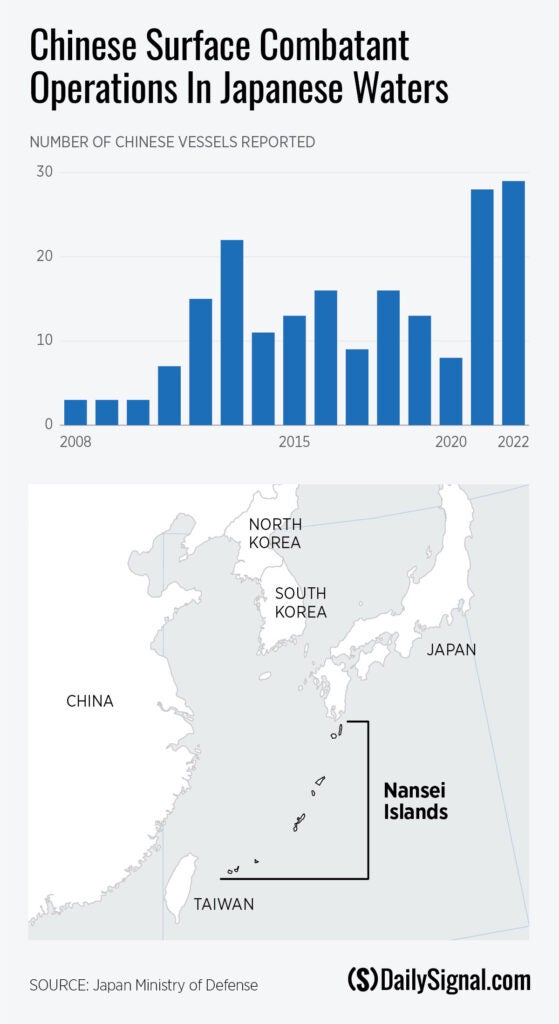 Today, the worry is that another Taiwan Strait crisis may erupt, and the increased Chinese military presence nearby violating past understandings—such as the median line—makes predicting intent and responding to a crisis more challenging.
The increased Chinese presence also means Taiwan's armed forces, along with those of Japan and the U.S, must remain at a higher operational tempo while being ever more vigilant for danger in this new, tenuous normal.
Have an opinion about this article? To sound off, please email letters@DailySignal.com and we'll consider publishing your edited remarks in our regular "We Hear You" feature. Remember to include the url or headline of the article plus your name and town and/or state.
The post China's Growing Naval, Air Operations in East Asia Represent Dangerous 'New Normal' appeared first on The Daily Signal.