Progressive Hypocrisy on Dark Money in Politics
Do as I say, not as I do. The hypocrisy of the progressive movement continues as they secretly funnel dark money into their campaigns while publicly condemning PACs.
Many candidates work with dark money groups, but only a few do so while campaigning directly against it. The progressive movement, led by Senator Bernie Sanders, has actively opposed big money in politics. Here are three candidates that Sanders has endorsed who have quietly directed dark money involvement, while publicly criticizing others for doing the same.
In a letter to Democratic National Committee Chairman Jamie Harrison earlier this week, Senator Bernie Sanders again condemned the use of dark money and Political Action Committee (PAC) involvement in primary races. Sanders' letter was "to demand that the Democratic National Committee make it clear that Super PAC money is not welcome in Democratic primaries." There is just one problem, several candidates that Sanders has endorsed in the primaries have not only accepted dark money, but have quietly coordinated with PACs while simultaneously condemning their existence.
Jessica Cisneros (TX-28)
Take for example Jessica Cisneros, who just faced a very tight runoff in Texas District 28 on May 24th against incumbent Henry Cuellar, where Cuellar declared himself the winner and she still has yet to concede. Cisneros is one of the worst offenders of sending messages to dark money groups.
It is against campaign regulations for campaigns to coordinate with Super PACs. This is something that the Cisneros' campaign knows, in fact "Getting Big Money Out of Politics" is one of the 13 issues she highlights on her website. There she states that she is "not accepting any corporate PAC money or contributions."
Cisneros, however, has found a sneaky workaround. Buried at the very bottom of her campaign page there is a link to "Media Center." Following that link, after scrolling to the bottom of that page you find her directives to the PACs.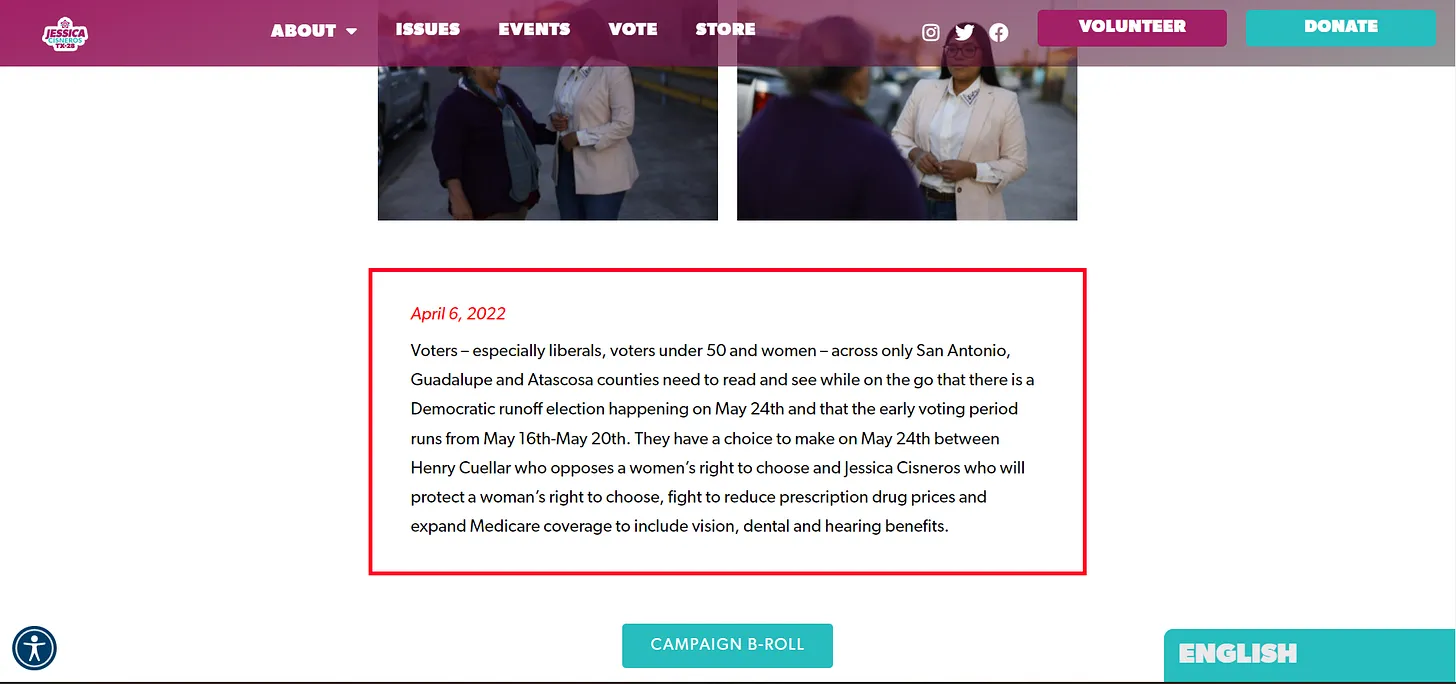 These types of messages are not new in politics, many candidates communicate with Super PACs in these red-boxed messages. Realizing that her campaign could not directly talk to PACs, Cisneros and her team found the loophole. If they publish their message to the PACs on their public website, where anyone could access it, the message would not technically be "direct." Her message to the dark money: target "liberals, voters under 50, and women." Cisneros even directs the PACs to the specific locations that she wants targeted: "across only San Antonio, Guadalupe and Atascosa counties." Finally, she tells the PACs the exact message that she wants delivered to those voters.
These types of "indirect" communications are not new to Cisneros, who has changed her message to the PACs numerous times during the election. For example, in January the campaign was telling PACS to target ads across the district (not just the three locations) for "liberals, voters under 50 and women over 50."
Under the message she has a link to "Campaign B-Roll" for the PACs to use in their commercials. The link takes you to the PAC called Justice Democrats' YouTube page. Cisneros is directly using the Justice Democrats' b-roll on her website to provide more material to other Super PACs and other dark money endorsers.
Since Cisneros has made "getting big money out of politics" a central focus of her campaign. Cisneros can't claim to be against PACs and have TV commercials by them openly supporting her. Therefore, she uses "need to read and see while on the go" to direct the money to go towards direct mail and digital ads.
As Shane Goldmacher, of the New York Times, has reported: these "red-boxed" messages "often use thinly veiled terms to convey their instructions: Saying voters need to "hear" something is a request for radio ads, "see" means television, "read" means direct mail, and "see while on the go" usually means digital ads."
Senator Sanders went to San Antonio earlier this week to campaign for Cisneros, perhaps while he is there he will ask her about her use of PACs. After all, Bernie said in a recent video on his way to Texas: "I am going because I am sick and tired of the many millions of dollars in Super PAC money that is going up against progressives like Jessica."
Nida Allam (NC-04)
Another Bernie Sanders endorsee, Nida Allam, who recently lost her primary on Tuesday in North Carolina, was a particularly bad offender. Allam changed her message to PACs­–"especially women, Democrats under 50 and progressives; must read and see while on the go as well as broadcast"–several times. Unlike Cisneros, Allam included "broadcast" on her request for Super PAC support.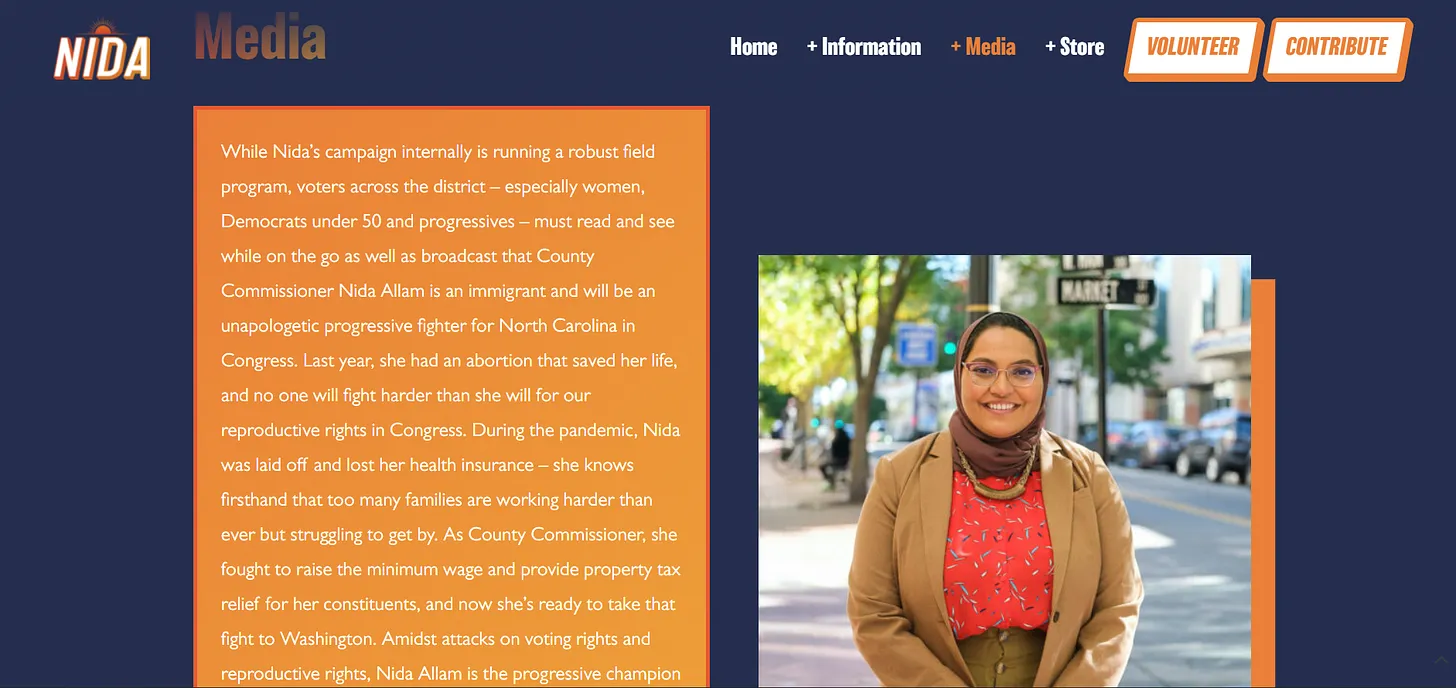 Summer Lee (PA-34)
Alternatively, Bernie Sanders endorsed progressive candidate, Summer Lee, who won her PA primary on Tuesday as the "first Black woman elected to Congress from Pennsylvania," has taken a hard stance against dark money in politics. On her website the first value she proports to hold, "Democracy and Voting Rights." Lee states "as long as corporations can funnel billions into elections, our democracy will continue to belong to the highest bidder. Comprehensive campaign finance reform that ends Citizens United and puts campaigns back into the hands of the people is a necessary step to rebuilding our democracy."
However, Lee has had no trouble sending her directives to Super PACs to do her bidding. During Lee's primary against fellow Democrat Steve Irwin, she directed dark money to attack her opponent for receiving corporate funding. Lee stated voters "need to read and see" about Irwin's donors. Later in the race, on May 6th, she sent a message to the Super PACs to attack Irwin for "benefiting from millions in Super PAC ad spending funded by a group endorsing over 100 anti-choice, insurrectionist Republicans." Lee also included b-roll for the PACs to use. Since winning her primary, Lee has removed her messages to dark money.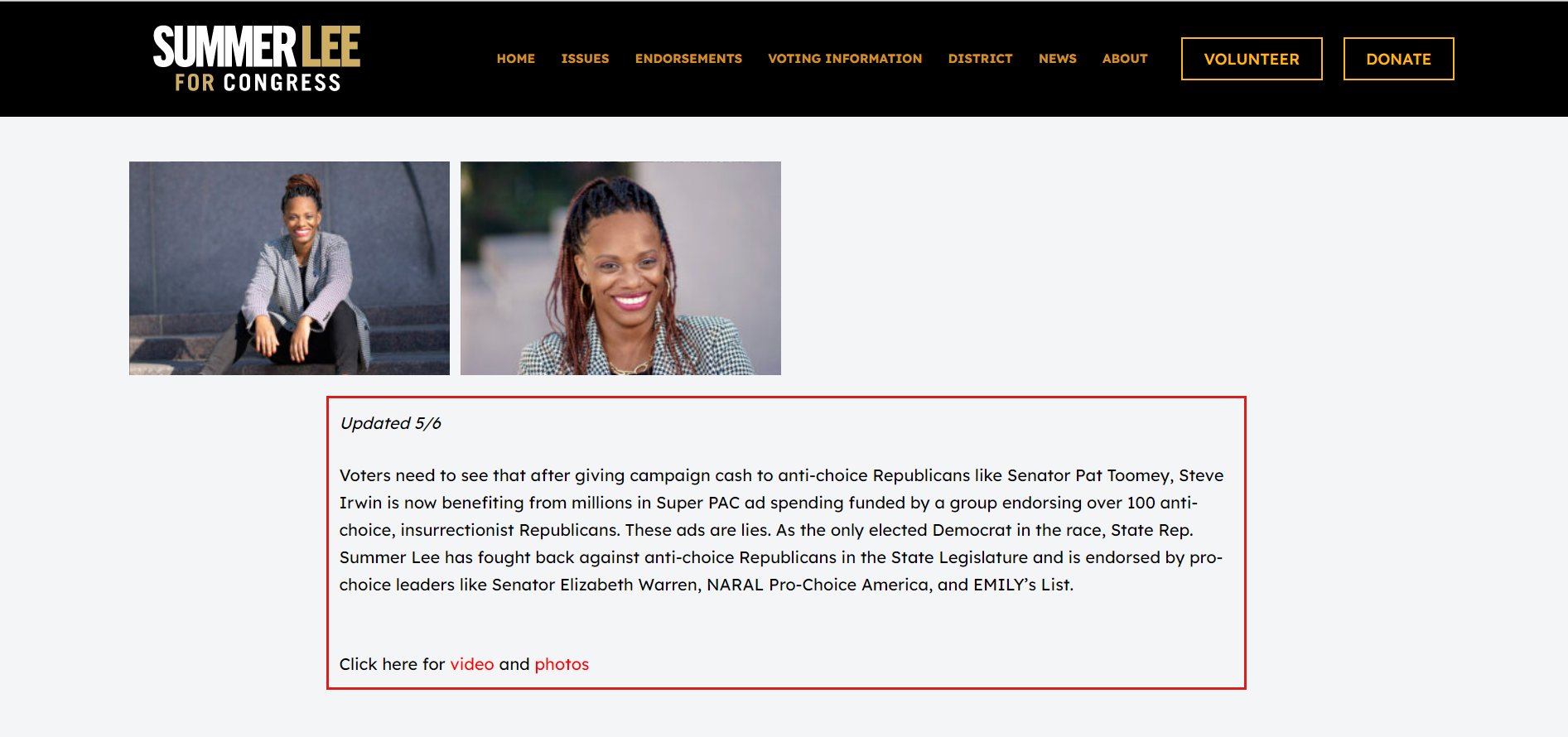 Of course, Republicans employ the same tactics, sometimes more blatantly. However, progressive candidates have made it a central point to end dark money in politics, reverse Citizens United, and have made a commitment to refuse corporate funding of campaigns. While making those statements publicly, they continue to not only accept the work of PACs, but to direct the PACs on how to campaign.
Senator Sanders said this week "the continuation of Super PAC money in Democratic primaries will demoralize the Democratic base and alienate potential Democratic voters from the political process." The candidates he has endorsed do not share that sentiment, even if they claim so publicly.
The Lee, Cicerso, and Allum campaigns were reached out for comment.
No one replied.
Latest posts by Garison Carrell
(see all)