Why have a SOTU?
The practice arises from a duty of the President under the State of the Union Clause of the U.S. Constitution: He shall from time to time give to Congress information of the State of the Union and recommend to their Consideration such measures as he shall judge necessary and expedient.— Article II, Section 3 of the U.S. Constitution
Democrats: Historical Obstruction
During President Trump's first State of the Union (SOTU), most Democrats sat with little or no applause. It's not uncommon for the opposing party to remain seated during a (SOTU). However, Democrats were perceived as disrespecting distinguished guest and the fallen veterans family's.
The (SOTU) hasn't been postponed since 1986. President Ronald Reagan delayed the (SOTU) one week due to the Space Shuttle Challenger disaster. This year, the (SOTU) was sadly postponed over partisan politics regarding border security.
On January 23, 2019, an exchange of letters between President Donald J. Trump and Speaker Nancy Pelosi resulted in the (SOTU) being postponed until February 5, 2019. Pelosi claimed she dis-invited President Trump because of the ongoing "government shutdown." This type of political obstruction has reportedly never happened in American history.
President Trump: Dominated State of the Union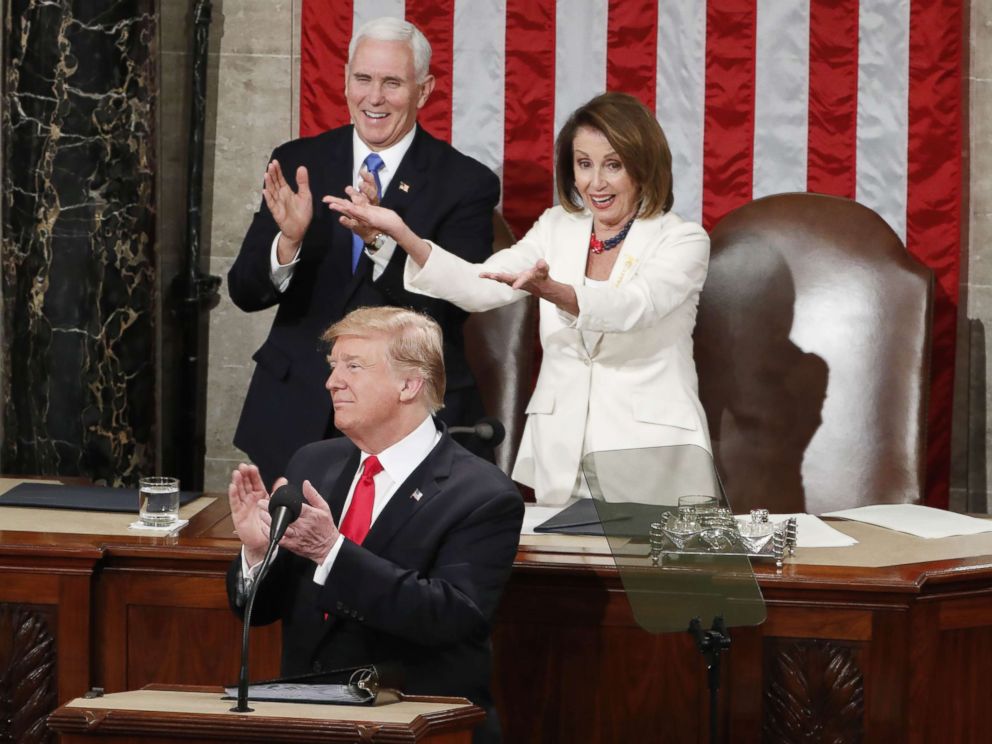 President Trump dominated his second (SOTU) as he worked the house like no other! The president's opening statement, "We meet tonight at a moment of unlimited potential. As we begin a new Congress, I stand here ready to work with you to achieve historic breakthroughs for all Americans." The speech was filled with substance and delivered with precision. A CBS News Poll found, 76% of viewers approved of the speech. The same CBS Poll found, most viewers had a favorable opinion of what Trump had to say about immigration and what to do about U.S. troops in the Middle East.
The themes of "greatness and unity" resonated with 56% of the people who watched the (SOTU). Of course, Democrats didn't see it that way. A CBS News Poll found 15% of the Democrats believe the speech will unite people. From the same CBS Poll, 71% of the viewers believe there's a crisis at the border. Further results and statistics can be found from at CBS News Poll. The entire (SOTU) and quotes used can be found at the link; Remarks by President Trump in State of the Union Address.
D-DAY/Moon Landing: Anniversaries Remembered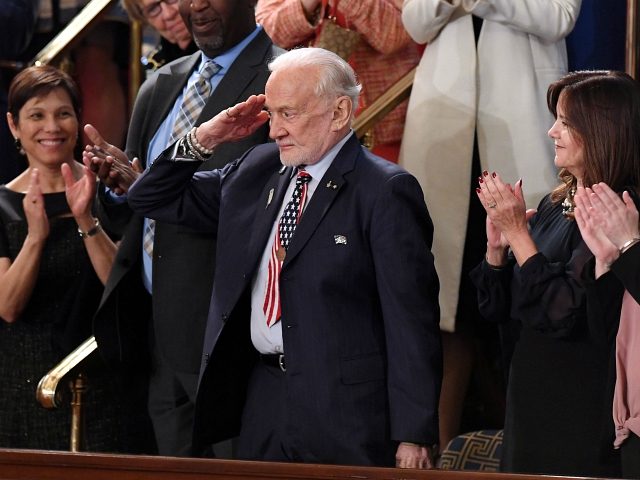 The president's distinguished guest were highlighted throughout the speech. President Trump stated, " On D-Day, June 6th, 1944, 15,000 young American men jumped from the sky, and 60,000 more stormed in from the sea, to save our civilization from tyranny. Here with us tonight are three of those incredible heroes: Private First Class Joseph Reilly, Staff Sergeant Irving Locker, and Sergeant Herman Zeitchik." The three heroes received a huge applause.
This year marks the 50th anniversary of landing on the moon. President Trump saluted Apollo 11 astronaut Buzz Aldrin. Trump stated, "Half a century later, we are joined by one of the Apollo 11 astronauts who planted that flag: Buzz Aldrin." The president thanked Buzz and said, "this year American astronauts will go back to space on American rockets." Aldrin stood and returned a salute.
Trump: Choose Greatness
President Trump explained, "In the 20th century, America saved freedom, transformed science, redefined the middle class, and, when you get down to it, there's nothing anywhere in the world that can compete with America. Now we must step boldly and bravely into the next chapter of this great American adventure, and we must create a new standard of living for the 21st century. An amazing quality of life for all of our citizens is within reach." However, the Democrats history of resisting and obstructing everything could prove to make things difficult.
President Trump stated, "Together, we can break decades of political stalemate. We can bridge old divisions, heal old wounds, build new coalitions, forge new solutions, and unlock the extraordinary promise of America's future. The decision is ours to make." Surprisingly, there was applause from both sides after this statement. The president strongly ended this segment by saying "tonight, I ask you to choose greatness" which was met with great applause.
Economic Boom: There's Been Nothing Like It
Every president boasts about their administrations achievements during the (SOTU). However, none match the level of success this administration has achieved. The president explained, "In just over two years since the election, we have launched an unprecedented economic boom — a boom that has rarely been seen before. There's been nothing like it. We have created 5.3 million new jobs and, importantly, added 600,000 new manufacturing jobs — something which almost everyone said was impossible to do. But the fact is, we are just getting started." With nearly two years left there's no telling how much will be accomplished.
The Democrats sat silently when President Trump said, "Unemployment has reached the lowest rate in over half a century. African American, Hispanic American, and Asian American unemployment have all reached their lowest levels ever recorded. Many Democrats didn't applaud or stand for record unemployment numbers of minority groups. Critics believe actions like this could hurt Democrats at the voting booth in 2020.
The State of our union is strong!
President Trump's administration lowered the unemployment rate with every group of people in the last two years. Trump stated, "More people are working now than at any time in the history of our country — 157 million people at work." With a final comment on the economy, Trump stated, "Members of Congress: The state of our union is strong." Cheers could be heard from both sides of the aisle USA! USA! USA!
Trump Exclaimed, "I Will Get It Built"!
Leading up to the (SOTU) Pelosi refused to make any compromise on funding the border wall. The president stated, "Tonight, I am asking you to defend our very dangerous southern border out of love and devotion to our fellow citizens and to our country. No issue better illustrates the divide between America's working class and America's political class than illegal immigration. Wealthy politicians and donors push for open borders while living their lives behind walls, and gates, and guards."
The president smiled and said, "Don't sit yet. You're going to like this" causing the audience to laugh out loud.
President Trump stated, "one in three women is sexually assaulted on the long journey north. Smugglers use migrant children as human pawns to exploit our laws and gain access to our country. Human traffickers and sex traffickers take advantage of the wide-open areas between our ports of entry to smuggle thousands of young girls and women into the United States and to sell them into prostitution and modern-day slavery." Most Democrats sat smirking in disbelief or looked upset shaking their heads.
Trump: Not 1 More Life Lost
President Trump introduced Debra Bissell. Trump stated, "Just three weeks ago, Debra's parents, Gerald and Sharon, were burglarized and shot to death in their Reno, Nevada home by an illegal alien. They were in their eighties, and are survived by 4 children, 11 grandchildren, and 20 great-grandchildren."
Trump exclaimed, "I will never forget, and I will fight for the memory of Gerald and Sharon that it should never happen again. Not one more American life should be lost because our nation failed to control its very dangerous border." The president ended border security with this strong statement, "In the past, most of the people in this room voted for a wall, but the proper wall never got built. I will get it built."
A Moment Short Lived
No one expected the Democrats to cheer for President Trump, but it happened. Trump stated, "As we work to defend our people's safety, we must also ensure our economic resurgence continues at a rapid pace. No one has benefited more from our thriving economy than women, who have filled 58 percent of the newly created jobs last year." Suddenly, the Democrats stood up high-fiving each other and clapping their hands which caused Trump to say, "You weren't supposed to do that. Thank you very much."
The president smiled and said, "Don't sit yet. You're going to like this" causing the audience to laugh out loud. Trump stated, "And exactly one century after Congress passed the constitutional amendment giving women the right to vote, we also have more women serving in Congress than at any time before." The Democrats stood up cheering USA! USA! USA! taking photos and celebrating. A moment short lived. The look of "surprise" on Pelosi's face was priceless.

Wrap-up: Part 1
This article covers the first half of the (SOTU) speech. However, this part of the speech paved the way for what many believe will be a historic (SOTU). In the second part of this article series, the president's views and comments up until his final remarks will be covered. The full State of the union can also be viewed here.
Latest posts by John McGeever
(see all)