DEL RIO, Texas—"My house looks like Fort Knox at night," Teresa Esther Chapoy said, pointing to the lights she installed around the outside of her home and the fence she put up in her backyard.  
Chapoy, 70, lives a mile from the U.S.-Mexico border here in Del Rio, 156 miles west of San Antonio. Standing in her driveway, she told The Daily Signal that it's not uncommon for her to see illegal immigrants walking down her street or even running across her property.  
In August, Chapoy says, she filmed a group of migrants walking on her street who had just crossed over the border from Mexico.
Her home hasn't been broken into, she said, crediting her guard dog, an American Bully she rescued from a shelter.  
On Monday night, Chapoy said, her dog was barking quite loudly. She got up to look out the window, but saw nothing.
The next morning, Chapoy was talking with a neighbor, who told her a search helicopter had been flying over her home around the same time that the dog was barking.  
"They were looking for somebody. And, you know, I don't know who was here, but somebody may have been here," Chapoy said, adding, "That's a typical day."  
Chapoy has lived in Del Rio since she was a little girl, and the land she lives on now first belonged to her grandfather. There was a time, she says, when she felt safe to leave the windows open at night to let the cool breeze in. But no more.
"Now, I'm locked up," she said.  
Asked whether she ever considers moving away from the border, Chapoy said, "I've thought about it, but where would I go? … I will not run away. I'm staying and fighting, come what may."  
Americans "need to understand that what's happening here is moving into their backyards," Chapoy said.
"And Martha's Vineyard … that was nothing, that was just 50 [migrants]," she said, referring to the 48 illegal immigrants from Venezuela flown by Florida Gov. Ron DeSantis earlier this month to the resort island off the coast of Massachusetts.  
Local leaders in Texas border towns such as Del Rio and Eagle Pass say migrants pass through their communities every day, but they're not staying. Instead, they're moving into the interior of the United States.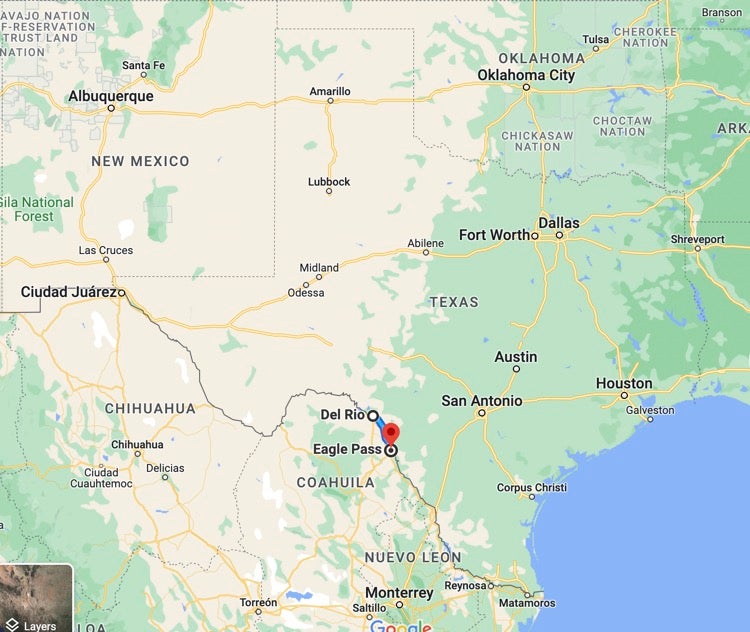 Just down the street from Chapoy's home on Tuesday morning, two migrants waited with a baby for Border Patrol after crossing illegally into America.
The couple had traveled to Texas from Colombia and told The Daily Signal that they hope to go to Chicago.  
Border Patrol agents arrived and likely took the Colombian family to an immigration processing center where their identifying information would be documented, Frank Lopez, a former Border Patrol agent, told The Daily Signal.
From the processing center, they likely would be delivered to a nonprofit that would pay for a bus ticket for them to travel into the interior of the U.S. 
All along the southern border, sections of wall can be seen, some dating back to Presidents Bill Clinton and George W. Bush. The sections built under the Trump administration are higher than previous barricades, but large sections remain unfinished.  
Texas Gov. Greg Abbott, a Republican, also has put fencing up along sections of the border, including on private land with the permission of the property owners.  
Del Rio is part of Val Verde County.
Two types of illegal migrants cross the border from Mexico into Texas, Val Verde County Sheriff Joe Frank Martinez told The Daily Signal: "Those that want to get caught, and those that don't."  
The first group of individuals has come to America for a myriad of reasons, Martinez said, but they likely don't have serious criminal records.
These individuals wait for the Border Patrol to pick them up and willingly go with the law enforcement officers. That was the case with a small group of migrants seen in Eagle Pass as they climbed into a Border Patrol van Tuesday afternoon after crossing the Rio Grande into Texas.  
The illegal migrants who don't want to be apprehended, "they're going through private property," Martinez, a Democrat, told The Daily Signal in an interview Monday at his office in Del Rio. 
"They may be breaking into a barn or a hunter's cabin, maybe stealing a four-wheeler," the sheriff said, adding, "They cut through fences to get through [and] might steal water or food to keep their journey going." 
On Martinez's desk was a binder filled with photos of illegal immigrants who, whether or not they wanted to be arrested, did not survive the journey to their destination in America. Some were found dead on ranches, others drowned crossing the Rio Grande.  
Martinez pointed to a photo of a woman lying on the bank of the river, her belly swollen. She was a "Haitian lady pregnant with twins at term," Martinez said, and drowned trying to cross the Rio Grande.  
Border Patrol agents use airboats, which are flat-bottomed craft propelled by a giant fan, to navigate the sometimes shallow waters of the Rio Grande where so many migrants attempt to cross.
To fix the situation at the southern border, Martinez said, both sides "have to come together and work together to solve this problem."
"The problem … is that the far Right and the far Left outnumber the people that are going to get things done," the sheriff said.
Martinez said he knows that citizens of other countries want to go to America to "better themselves," but believes they must "do it legally."
The problem, he said, is "there's not a mechanism in place that would make [immigration] flow smoothly without, you know, taking years in the pipeline, in the system, because it's broken everywhere."  
Have an opinion about this article? To sound off, please email letters@DailySignal.com and we'll consider publishing your edited remarks in our regular "We Hear You" feature. Remember to include the url or headline of the article plus your name and town and/or state. 
The post What I'm Seeing on Texas' Border With Mexico appeared first on The Daily Signal.
Latest posts by The Daily Signal
(see all)