An educational consultant group says its campaign exposing "the radical and woke mission of the American School Counselor Association" was taken down from its website and Google Drive. 
Courage is a Habit launched the campaign, "Behind Closed Doors," on Sept. 7, including content reportedly from the July conference of the American School Counselor Association, or ASCA. Courage is a Habit President Alvin Lui shared the campaign with The Daily Signal.
The campaign PDF featured videos reportedly from the conference in which speakers discussed birth control, critical race theory, and parental rights. The PDF also included PowerPoint slides discussing transgender issues like gender identity and expression. ASCA's website offers different resources and tools for counselors to use to support LGBTQ+ students and transgender and nonbinary youth.
Three days later, on Sept. 10, the group was notified via email that the campaign link had been removed at ASCA's request, the same document shows. 
"By Saturday morning, around 10 a.m., we get an email from Carrd.co. Carrd.co is the provider where we have our website," Lui told The Daily Signal in a phone interview, noting that Amazon Web Services, or AWS, hosts the Carrd.co servers. 
ASCA "supports school counselors' efforts to help students focus on academic, career and social/emotional development so they achieve success in school and are prepared to lead fulfilling lives as responsible members of society," according to its website.
"ASCA went to Amazon and told them to tell Carrd.co to take our link down from the website, so they sent a cease and desist," Lui told The Daily Signal. This move then prompted Carrd.co to send Lui the following email regarding the link's removal:  
Hey Alvin, just a quick heads up: we received a cease and desist from the American School Counselor Association (by way of AWS) regarding the use of their logo on this site as well as a link to allegedly copyrighted materials by way of the 'Behind Closed Doors' Google Drive link.

While the logo image they mentioned doesn't appear on the site, we did remove the Google Drive link to avoid taking the site offline. Sorry for the inconvenience.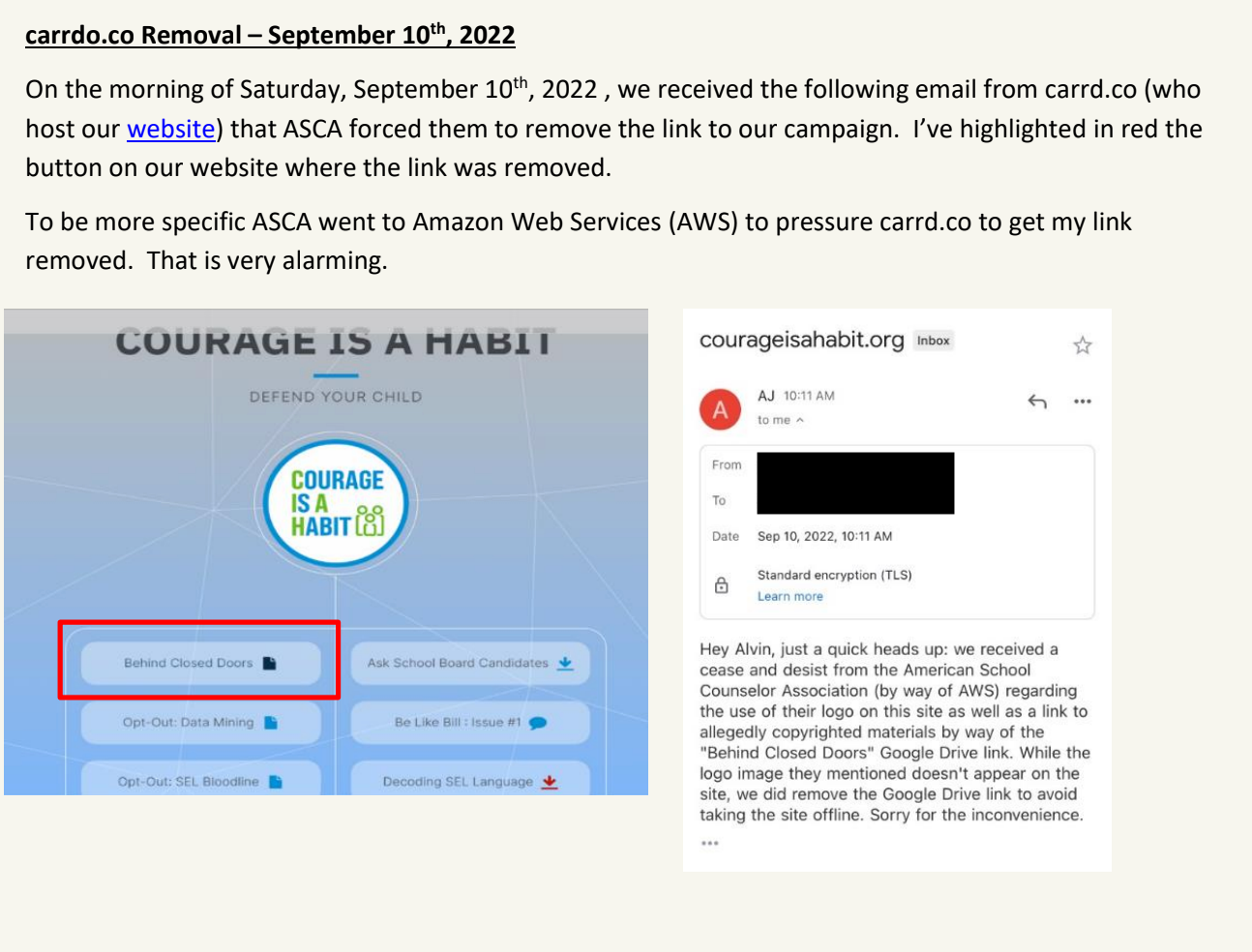 Lui said the Courage is a Habit website itself did not show ASCA's logo, though the campaign PDF link did include the logo on some pages in addition to ASCA's videos and PowerPoint materials the group collected at the July conference.
"[ASCA] is saying 'oh, you're using our logo. It's proprietary and misinformation … but we were attendees. We got this right. I'm not selling the information," he said, "I'm just sharing the information. We went to a conference and here's what we learned."
According to one PowerPoint slide featured in the campaign, ASCA asks:
What do we do if a student who is not transgender complains about being uncomfortable with students are transgender and gender expansive?
ASCA replied, "We continue to educate our students, as we always have. We report all forms of bullying and harassment to our administrators."
The Courage is a Habit site had numerous hyperlinks because it's "meant to be very minimal for the average parent to find information on all things school related," Lui said, adding later:
The fact that ASCA, being such a large organization, is so afraid of their materials getting out to the public is really telling because if all they're doing is helping children and loving children and being empathetic and it's about safety, and that's all it is, then they should have no problem with any of this information getting out there because you would be proud of it. You would be saying, "Yeah, this is what we're doing."

The fact that they moved so fast to get this stuff removed, or try to get it removed anyway, obviously we can put it elsewhere, is very, very telling.
"Just a sidenote – this is the second time in 30 days they went after us," he said, adding that last month Mother Jones wrote a "smear piece" about Courage is a Habit's exposure of some, but not all, materials the group gathered at the July conference. 
"When they did that, that gave us a clue that [ASCA] really didn't want this stuff out," Lui said. 
Lui noted that his lawyers are exploring whether the campaign PDF link could be published on the website again if ASCA's logo is redacted. 
"I think the bigger conversation, which is what I hope talking to you, hopefully some other people about it, is like – why are they so afraid?" Lui said. He noted that the point of the campaign is to expose ASCA for "driving this transgender cult in schools more than anyone else."
Google informed Lui on Monday that it removed the campaign PDF file link from his Google Drive, making his tweets, emails, and Linktree that included the campaign PDF link invalid, the Courage is a Habit president told The Daily Signal.
Will Thibeau, a policy analyst in The Heritage Foundation's Tech Policy Center, told The Daily Signal that the effort to censor Courage is a Habit's campaign is "evidence that tech policy discussions are about more than social media content moderation." (The Daily Signal is the media outlet of The Heritage Foundation.) 
"The 'full stack' of internet service providers are allied against conservative voices, and federal lawmakers need to take legislative action to protect conservative voices and restore trust in our information environment," Thibeau said.
"Isn't it funny that internet copyright standards are only ever enforced when a leftist organization files a complaint?" he asked. "Courage is a Habit used public information from the ASCA to expose their radical agenda to make kids trans."
Kathleen Rakestraw, the director of communications for ASCA, explained the group's reasoning for having the content removed. 
"ASCA requested that the links be removed because it was copyright infringement. Courage is a Habit was posting our trademarked materials without permission," Rakestraw told The Daily Signal in an email. 
Google did not respond to The Daily Signal's request for comment when asked why the link was restricted from public access. 
ASCA did not respond when asked whether content shown in the campaign screenshots provided in an email was available on its website or if The Daily Signal could include screenshots of the campaign for this article. 
Have an opinion about this article? To sound off, please email letters@DailySignal.com and we'll consider publishing your edited remarks in our regular "We Hear You" feature. Remember to include the url or headline of the article plus your name and town and/or state.
The post Google, Amazon Censored Campaign Exposing School Counselor Association's Agenda, Education Group Says appeared first on The Daily Signal.
Latest posts by The Daily Signal
(see all)