CV NEWS FEED // Hundreds gathered at the Indiana Statehouse to encourage pro-life lawmakers to stand with preborn children and their mothers by voting against Senate Bill 1. The bill claims to ban abortions in the state with exceptions for rape, incest, and cases in which a mother's life is in danger – but would fail to hold anyone accountable for illegal abortions. 
Indiana Right Life organized a "Love Them Both" rally in an effort to convince lawmakers to vote no on Senate Bill 1 because of its lack of authority and initiative against abortion. 
"There are so many issues with the bill that it's hard to keep track of," said President and CEO of Indiana Right to Life Mike Fichter in an interview with CatholicVote. 
"It has no enforcement capability," Fichter continued:
Any criminal provisions in this bill for doctors doing illegal abortions is merely window dressing. It will do nothing to stop violating the law in Indiana. It will do nothing to stop the influx of abortion drugs in Indiana. It's just very very disturbing. There are also numerous instances where the language is very vague, including the so-called "life of the mother" exception. It's been rewritten to where attorneys have looked at it and said, "this can be open to interpretation to mean basically anything."
Fischer said Right To Life was at the State House "to send a message that Senate Bill 1 is unacceptable to the pro-life community."
"It's a weak bill and has no enforcement provisions. It leaves a lot of exceptions wide open to continue abortions in Indiana. It simply is not what we have worked for for 50 years, and following a complete Roe-reversal, it's unacceptable," he said.
Fischer, pointing out a section of the bill about "licensing new and future abortion clinics," said it "really re-enforces that this bill is not intended to end abortions in Indiana."
Calling on pro-life legislators, Fischer said "our expectations are very clear: we expect you to vote the way that you ran for office…" To voters, he said, "We must hold them accountable for following through on that."
Fischer concluded: "Overturning Roe vs. Wade is not the end of the story. It's the next chapter of the war."
The bill has passed an Indiana Senate committee and now heads to the full Senate for amendments and possible passage. A final vote is expected soon.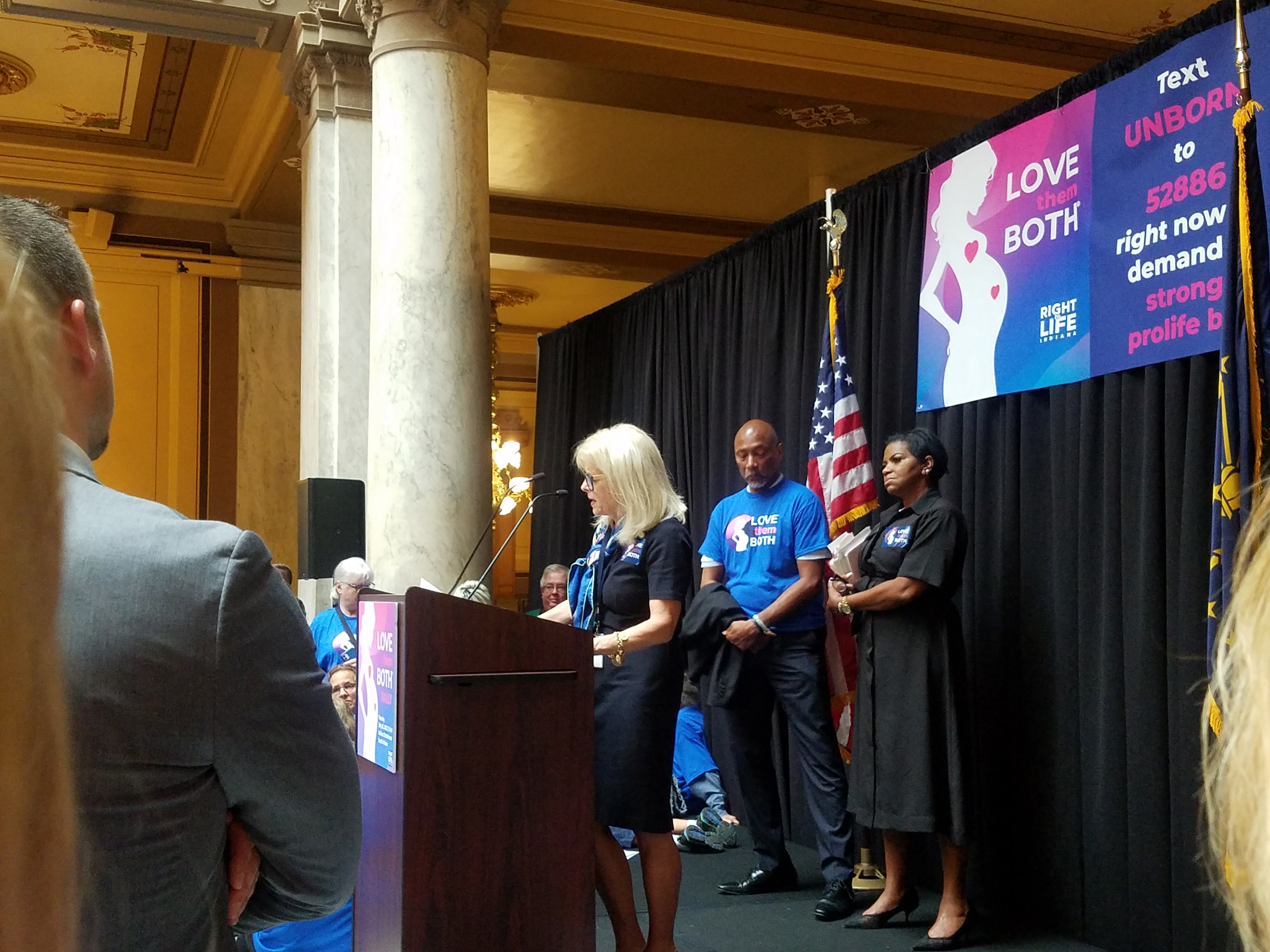 Republican Indiana State Senator Liz Brown also spoke at the rally, criticizing the bill and calling for a true ban on abortion:
I have shared with leadership that my constituents and I are extremely disappointed that proposed legislation could leave our unborn babies, even those past the point of viability,  without protection in our state. Abortion doctors don't care and they won't be deterred. Senate Bill 1 as introduced cannot stand.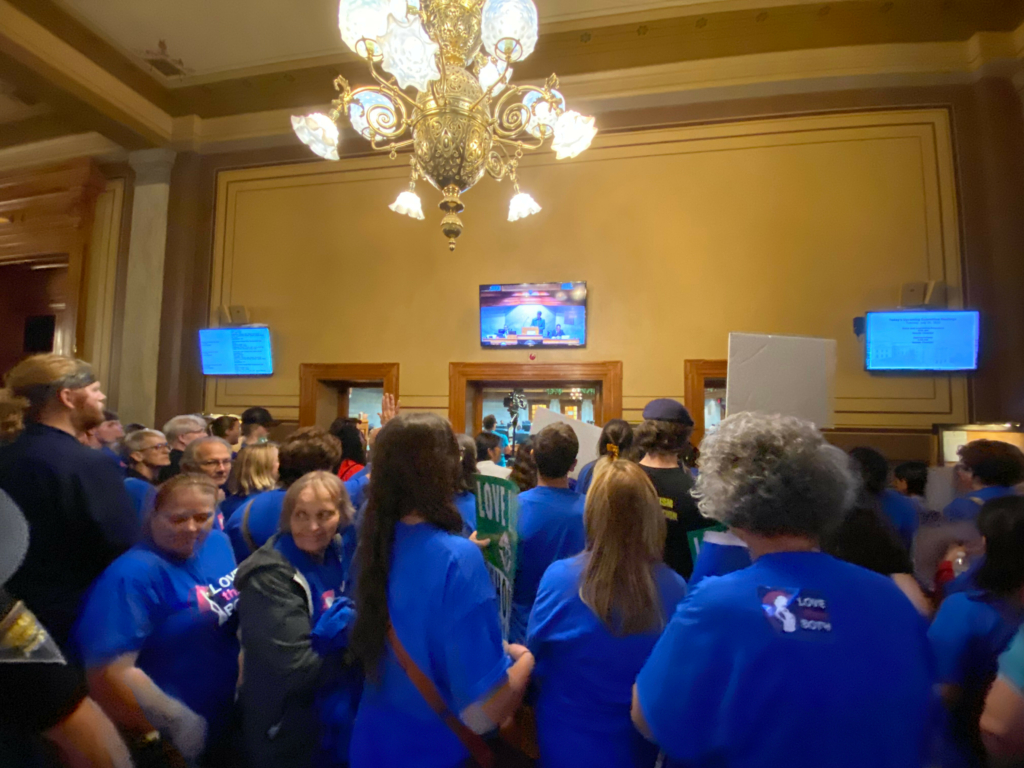 Marc Tuttle, president of Right to Life Indianapolis and parishioner at Our Lady of Mt. Carmel Parish in Carmel, Indiana, said that he was at the rally "to help support the thousands of Hoosiers that are looking for stronger protections for the preborn and even stronger help and support for pregnant moms around the state."
In an interview with CatholicVote, Mary Carmen Zakrajsek, Indiana regional coordinator of Students For Life, said that she was at the Statehouse "because it is time for us to legislate and protect life in law." Zakrajsek was present at the rally with a group of students, and is particularly passionate about this bill – stating that "a third of my generation is missing [because of] this violence." She added that they "will not accept anything less than protection after conception beccause anything less is discriminatory against our preborn brothers and sisters."
CatholicVote Journalism Intern Grace Shoemaker, present at the rally, said, "It's a joy to see so many passionate pro-lifers holding their legislature accountable for defending life."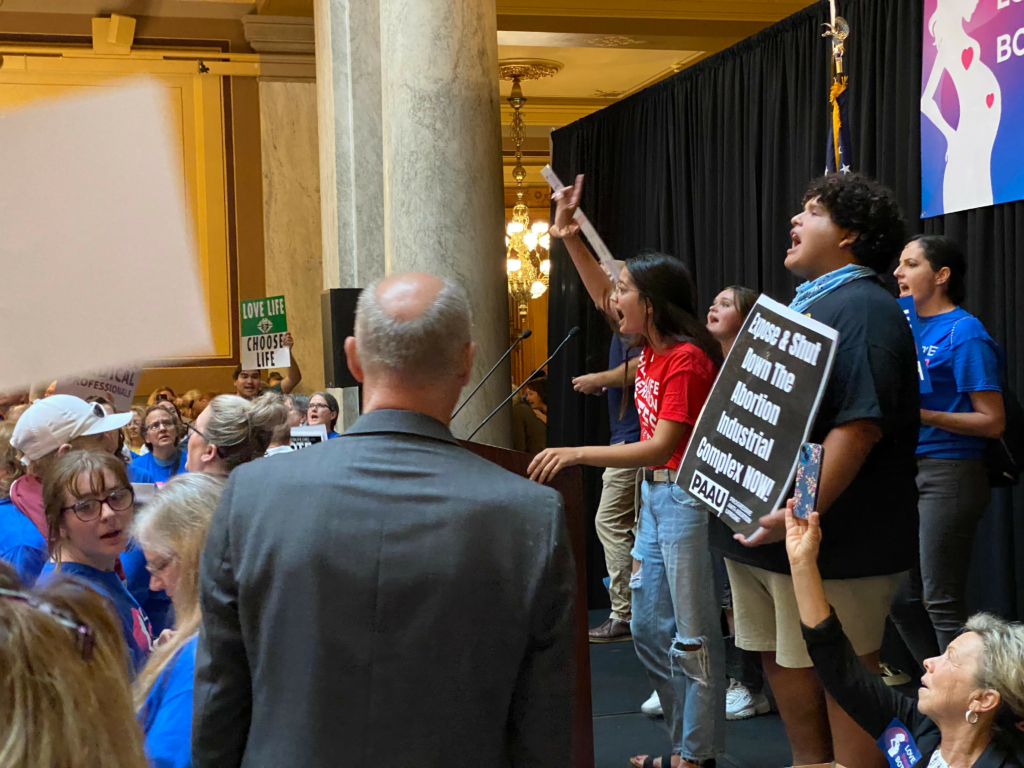 Readers looking for more information on Indiana Right to Life can click here.
Readers looking for more information on the Love Them Both initiative can click here.
The post Pro-Life Hoosiers Complain Bill is 'Toothless' appeared first on CatholicVote org.
Latest posts by Catholic Vote
(see all)